October 6, 2014
SCS/Track™ 3.1.0-0
Community Advertising Services™ 3.1.0-0
Community Classified Services™ 3.1.0-0
PGLAdBoss™ 3.1.0-0
ReserveAdBoss™ 3.1.0-0
Community Advertising Services (CAS).
The user maintenance in CAS is no longer restricted to displaying 500 users, search performance has been improved and the user maintenance dialog has been cleaned up and streamlined. Groups are now managed as part of the main CAS application and are not restricted only to SCS/Track. Multiple groups can be assigned to a single user. The users and groups that are configured here are used by SCS/Track so the users and groups configuration in SCS/Track is no longer necessary.

Users can now save a phone number, extension and job title with their CAS profile. These values have associated tags to allow that information to appear in outgoing email sent from CAS by that user. Additional tag support has been added to show the CAS user name, login and email address in outgoing email as well.

The general CAS reporting tool now contains all standard SCS/Track reports, replacing reports that once existed in the SCS/Track X-windows application (Reports). Exporting data to spreadsheets, business intelligence software and direct access to a PostgreSQL database is possible.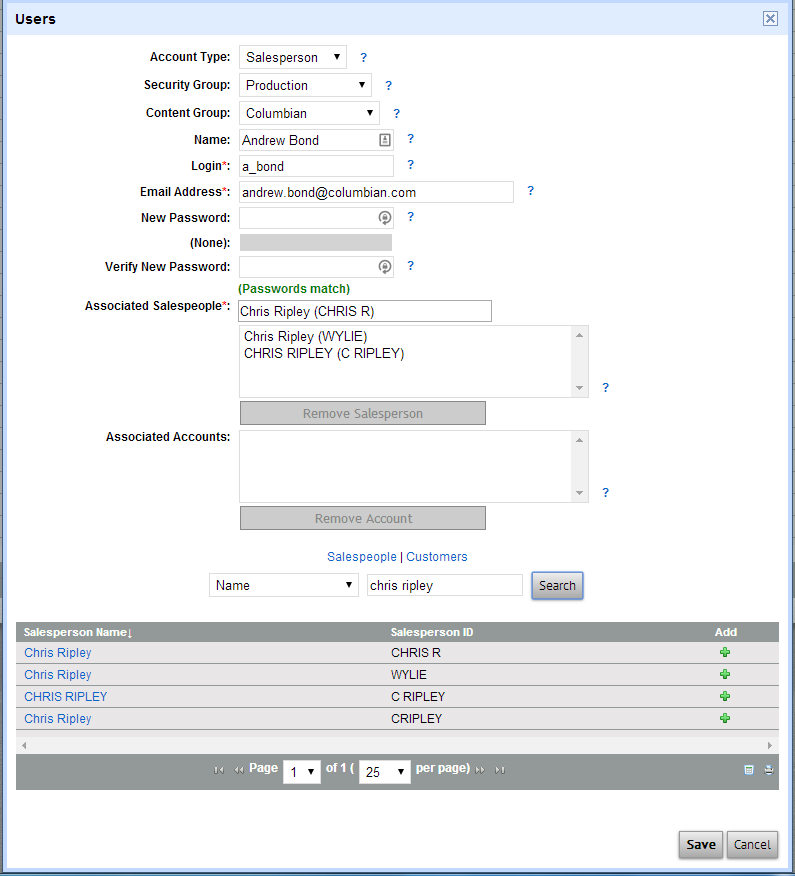 SCS/Track. 
The AdLauncher has been enhanced to handle building ads without the need for a station work directory. Samba and NetATalk file sharing methods are no longer required. This makes accessing ads in SCS/Track the same whether a user is building ads on the internal network or externally through the web. The interface to the AdLauncher has been streamlined, improving performance.

Users and groups are no longer configured in SCS/Track and a user can be assigned to multiple groups. See the first item under 1. Community Advertising Services (CAS) above for details.

Transfer methods are usable from Ad Inquiry and Ad Info. This was previously only available in the SCS/Track X-windows application (Do Jobs).

Printing Electronic Insertion Orders (EIOs) are usable from Ad Inquiry and Ad Info. This was previously only available in the SCS/Track X-windows application.

The ability to override a deadline is available from Ad Inquiry and Ad Info. This was previously only available in the SCS/Track X-windows application (Assign Jobs).

Added an ad notes indicator to both the Ad Inquiry and Ad Info pages.

The original date/time is preserved on files during the pickup process when ad components are copied from one ad folder to another.

All fields, including custom fields, that are available during the ad submit process in the ad upload or ad create form are able to be searched by in Ad Inquiry.

The layout file can be removed from the upload while submitting an ad; previously once the file was added, it could not be removed.

The full name of the operator is displayed in EditionAdBoss; previously only the user's ten-digit numeric id was displayed.

Expanded the size of the email dialog and lengthened various dialog fields.

Fixed archiving bugs that would prevent archived ads from being picked up and another where the checkout icon did not appear on the Ad Info page for these ads. Resolved two issues with the Ad Launcher that were related to the Java heap size and the setfile command. A problem was also fixed that caused the pickup check box that prints on EIOs to be checked off all the time, not just for pickup ads. These issues were introduced in version 3.1.0-0 of SCS/Track.

Moved the "web_cache" directory out of "/u/track/scratch" - it now resides in "/u/track/cache" as "web", this eliminates the problem of running out of disk space on the tmpfs file system that contains scratch. The nightly cleanup process has also been adjusted to take into account these changes.

The process of scaling an ad image when using the size checking and resizing tool did not work properly for EPS files, especially for those with a TIFF preview. This problem was most pronounced in older versions of QuarkXPress as it would cause the Quark document to crash. This problem has been resolved.

A few ads that printed with a header would span across two pages even though the scaling should always keep the ad on a single page. Ads, when printed with a header, are now always properly scaled down to fit on one page.

More detailed logging has been added to the pagination and remove from pagination processes. This logging makes tracking down problems much easier.

Fixed several issues when filling in custom forms, when filling forms from PostgreSQL the add blank option did not work properly nor did the categories drop-down fill correctly.

The default sort in the pickup table is once again set to the First Run Date instead of the Order Id.

Wrapping has been improved in the PDF Ad Submit documents. In certain cases fields that were very long would have their text compressed to the point where it was unreadable, now it is wrapped at 25 characters, limiting the text compression.

Fixed an issue when filling in the source/destination order ids when recovering an ad from archive for pickup, previously those values were displayed as undefined.

Added a tolerance of sixty (60) seconds when detecting file association errors.

Preserved the file modification times when checking an ad out through AdLauncher.

Added an option to send email notifications when there is a change to an ad in order entry. This works very much like printing Electronic Insertion Orders (EIOs) except it does so through electronic notification.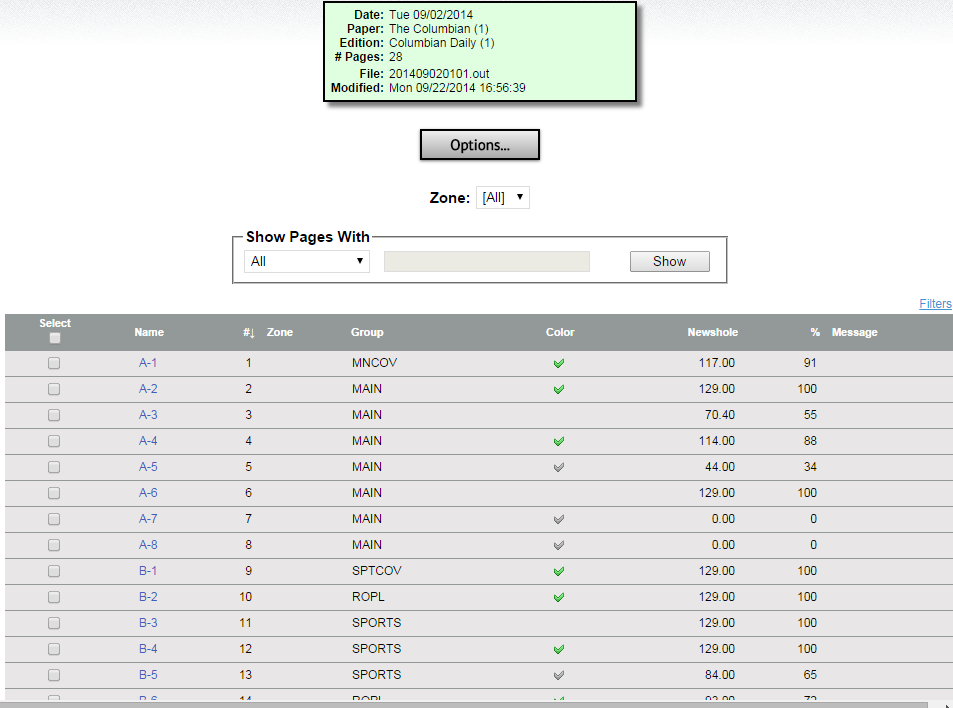 OE Interface to SCS/Track / CDS.
The XML interface supports the ability to kill all runs for an ad before reading in a new file. This support is necessary when working with deficient order entry systems that cannot properly pass runs and kills for an ad.

Mapping AS400 publications no longer require a blank padded code.
ReserveAdBoss (RAB).
Setup and maintenance of RAB is fully available through CAS and the user interface has been simplified and streamlined. Setting up products, zones and pages in RAB is now a simple step-by-step process.
Community Classified Services (CCS).
The "extras" that display up-sells as part of the classified order entry process is skipped if there are no up-sells available for that ad. Previously, the page would appear with no available options and needed to be manually skipped.

An icon to refresh the ad preview was added to the "extras" page.
PGLAdBoss (PGLAB).
PGLAdBoss is now a standard component of CAS.